Ngāti Raukawa ki te Tonga is an Iwi based in the lower North Island.
Mai i Waitapu ki Rangataua, mai i Mīria te kakara ki Kukutauaki. The Raukawa ki te Tonga tribal area stretches from south of Te Horo, through to Ōtaki, the Horowhenua, Manawatū up to the Rangitīkei River
Raukawa ki Te Tonga Trust is the kaitiaki of the Raukawa ki te Tonga fisheries settlement assets.
We manage and grow the assets to ultimately benefit our people.
Raukawa ki te Tonga Trust (the Trust).


The Trust was established in 2010 by Iwi members as the Mandated Iwi Organisation (MIO), under the Māori Fisheries Act 2004 (the Act), for Raukawa ki te Tonga in respect of fisheries matters.
Our fisheries assets were received in a settlement with the Crown of the Ngāti Raukawa commercial fisheries claim. Those assets were transferred to the Trust in 2010 by Te Ohu Kaimoana (TOKM) - the body responsible for allocation. Read more
---
---
---
Notice of Hui-a-tau
The Annual General Meeting of the Raukawa ki te Tonga Trust will be held at Matau Marae, Levin at 2pm on Sunday 2nd April 2023.
The AGM will include a Special Resolution regarding proposed Trust Deed amendments. Further explanatory information can be found below.
Information Sheet to accompany Special Resolution
Deed of Trust with proposed amendments
Voting will occur by ballot paper, provided at the meeting unless a ballot paper is requested in writing. All ballot papers received by post must be received before 5pm on Friday 31 March 2023. Adult Registered Members will be entitled to vote, if you need a registration form or a ballot paper, please contact raukawakitetonga@gmail.com.
A copy of the Annual Report, including the Audited Financial Report is available HERE.
2022 Trustee Election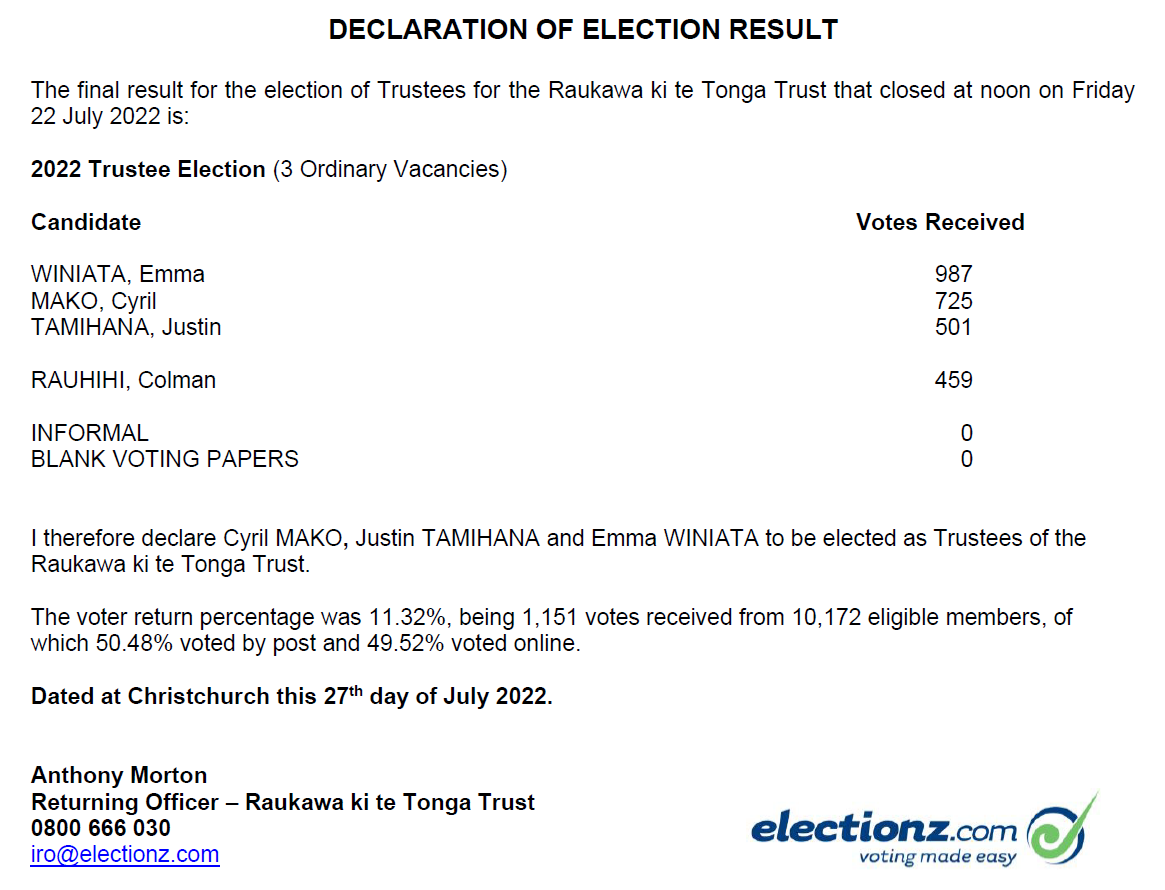 Register Now
Ngāti Raukawa ki te Tonga is an Iwi based in the lower North Island. It is not South Waikato based Ngāti Raukawa. Both Iwi have whakapapa but are separate. If you are wanting to get in touch with the South Waikato Ngāti Raukawa please see their website https://raukawa.org.nz/
An important task of the Trust is to maintain and grow a register of its members.
Why Register?
To connect with Iwi/hapū/marae/whānau, access Iwi benefits which currently include Marae and Iwi entity funding and fish distributions, stay updated on Iwi business including Raukawa wide activities/hui and have a direct say in decisions that affect you and your whānau.
To Register now or to find out if you are registered
LATEST NEWS & ANNOUNCEMENTS